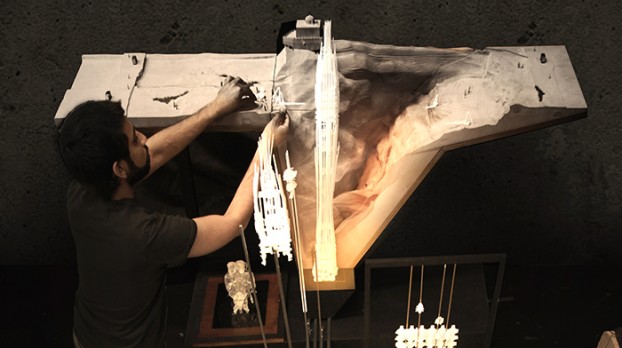 19 September on Brief
"
Virtual and actual worlds are inextricably inter-related and mutually defining. Instead of replacing the physical world of materials, the virtual world produces a renewed desire for tactility and texture in consumer culture.
"
— Sheila Kennedy, KVA: Material Misuse
Unit 18, or Generational Phantoms, will continue to investigate encoded materiality and cultural spaces based on digital design and making practices.
Last year we studied the human body as principle measure for design and mediator between immersive technology and social environments to develop architectures of collaboration. This year we will focus on the idea of the building being an incomplete or never-finished part in city nature based on translation and material processes.
In the last century Expressionist artists and more recently digital artists have worked with the concept of layered work, ambiguity and object variation suggesting new possibilities in the process of design, drawing and making. Studying John Ruskin artisanship enthusiasm in comparison to today's digital open source platforms the way architects work has changed dramatically questioning the idea of the classical and the modernist. While the architect's drawing used to be an approximation or inspiration to be interpreted and completed on site, it later transformed to be the precise guideline understanding the building as a 1:1 design realisation of the drawing, where every and anything that deviated from the notational drawing was seen as a mistake.
In contraposition we will be looking at the building as a system of material organisations where different scales of making, components and processes will constantly be explored. We will understand material processes as cultural and technological endeavours. Continuing the unit's interest in architecture as a cultural language we will investigate how materials morph and transform from component, to ornament, to volume.
We will start the year by investigating the notion of materials as non-standards or bespoke processes of manufacturing and test the idea of the catalogue of materials with critical eyes. Specifically looking at the Sir John Soanes Museum which houses an incredible mega dense and atmospheric collection of architectural stone components, cork building models and hand made city renderings we will focus on the material presence in architectural elements and analyse selected rooms and pieces utilising digital techniques such as 3d scanning, animating and complex 3d modelling and texturing.
This first exercise will lead to a small intervention in the museum area, currently under refurbishment, where ideas of materiality, digital and analogue processes of fabrication shall be presented through large models and a collection of drawings. We will explore the idea of the building as an unfinished, evolving entity, as the nature of the exhibition itself. The documents produced will form a response to a catalogue of non-standard materials in relation to architectural site conditions and fabrication methods.
The unit will constantly work between digital/physical prototypes and intuitive design as a way to translate social interactions between building and drawing. We will investigate sensorial and immersive architectures and design spaces for radical social interactions and unexpected collaborations between different users and social groups.
In the tradition of the unit, material language and digital interfaces will be explored via group workshops, guest talks and individual collaborations with UCL research departments. Furthermore we will work with artist institutions, material researchers, geologists and manufacturers.
Fourth year students will work between process of learning and applying new skills creatively while at the same time building up project constraints and a structured portfolio of research. They will focus on developing a conceptual work frame taking into consideration material process and building programme in an adequate scale in line with the Design Realisation strategy.
Fifth year students will develop a thesis following their research on how to articulate materiality and cultural aspects through the process of architecture based on digital and analogue tests. They will focus on innovative processes of architectural language, fabrication processes and digital experimentation. The final project will be a mature speculative and critical architecture based on the student's interest and aspirations.